Biography of the CEO & Founder of Down South Radio.Net
One of the world's best kept secret is from a little town in Sunset, Louisiana. He has
been in the spotlight in Louisiana for more than 30 years. Now it's time to put him in the
spotlight again and share him with the world. He's been moving and motivating millions
with his music style unlike any other D.J.; he has a distinctive sound and delivery.
Millions has listened to his music and they all agree it is timeless. In fact, some things
never go out of style. Case in point: The Legendary D.J. Carl T, The Original Midday Memory Man. He was born and raised in Louisiana. He is a music Innovator. In an era of hip-hop music it is truly refreshing to hear original classic R&B music. The man that
has the heartbeat on the music in Southwest Louisiana is Carl Thibodeaux, aka DJ hosted
the Midday Memory Show for 30 years, and hosting the afternoon Jam Show while jamming on the club scene for the past 36 years. Carl was voted #1 in Southwest Louisiana by readers of the Daily Advertiser in December 1996 while at KVOL FM
105.9 along with other Community Service awards, like sponsoring School Supply and
Christmas Drives for the kids, along with Elderly Programs & so much more!
At the early age, Carl realized that he had a love for music. Carl said, during his
childhood, he and his brother, Calvin Jr. and his sister, Tracey were always listening to
his late mom, Mariette Sue Pierre's and dad Calvin Thibodeaux, Sr.'s 45 records and he
says, "that is what really got me into music". He lost his Mom in 1997. He said she was
definitely his #1 fan.
He has been spinning records in the clubs for 36 years and 30 plus years on radio in
Southwest Louisiana.
He got his start at KJCB radio working the overnight shift, where he would later work his way up to the day shift. He worked from 1984 to 1990 at KJCB
770 AM. He left KJCB to work for Z106.3 FM where he worked from 1990 to 1993. At
the end of 1993, Carl made one of the toughest decisions in his life and that was to return
to KJCB to use his talents to develop an "Oldie Goldie Show" called "The Midday
Memory Show". He eventually went to Baton Rouge and patented the name and he would become The Midday Memory Man. He stayed 2 years with KJCB this time from 1993 to 1995. His show became so popular, other radio stations came calling. Carl says
KVOL 105.9 FM had the best offer so he decided to make the move again. He worked at
KVOL FM from 1995 to 1997 where he would be voted as Acadiana's #1 D.J. by the Daily Advertiser readers. As the ratings for his show kept climbing to #1 in the urban adult market in 1997, he was later recruited by Citywide Corporation, KNEK Magic 104.7 FM where he worked from 1997 to 2002. Carl left KNEK, and went back to his roots where it all started, KJCB 770 AM, where he was on air until the early part of 2003.
Carl then decided to take a break from radio and try his hand and become an entrepreneur
and open his own clothing and music store, Carl T's Fashions & Music.
Carl says he enjoyed the experience of owning his own business. "It's nothing like being able to make
your own hours and your own money". However, in 2005 Carl lost his lease on the building, the owner put the property up for sale. Carl says they wanted too much money for it so he was forced to close his store. He then started another business, Thib's Lawn Care Service specializing in commercial properties. His love for radio never left.
In the winter of 2005, he said it was too cold to cut grass and he brought his immense talent to
Opelousas Community Radio Station KOCZ 103.7 FM.
In November 2008, Carl started his new project and became the brain child of the new Z105.9 KFXZ where he was Program/Music/Promotions Director, On Air Personality of the Midday Memory Show from 9:00am to 2:00pm and Sales Executive. Carl says, "I
felt it was my very own, I did everything over there, unfortunately I did not own the station". Carl would stay there for 2 years until the General Manager, at the time, decided he wanted to make changes. Carl wasn't happy with the changes that the
General Manager wanted to make, because he felt like "if it ain't broke why try and fix it". He had taken a Country Western Station that wasn't in the top 25, flipped it to Southern Soul, Zydeco and R&B and made it the #1 Adult Station in the Urban Market.
So how do you fix that? Carl left KFXZ October 19, 2010, he said besides taking the radio station to #1, he was very proud to make change as he came on the air November 3, 2008 the very day before real change occurred in America on November 4, 2008, when
Barack Obama would be voted the 44 th President of the United States of America. Carl would also attend the historic 56 th Presidential Inauguration, on January 20, 2009. KFXZ is now a country western station again.
God makes things happen for a reason. Carl says during his two years from radio, he became closer to God. He has always been a spiritual person, but he really needed this. Carl said, "I have never been more focused. I'm better mentally, physically and most definitely spiritually. I always try my best to plan and strategize and come up with ideas no one else is doing, everything else is all in God's plan. Some people strategize but don't pray. One does not work without the other. You must pray, believe, and work
hard at your goal because prayer without work is dead. When God put this idea on my
heart, I stepped out on faith and went to work right away. First thing I did was sell my lawn service business to purchase equipment to build a studio, to pay for broadcast licenses, etc".
Downsouthradio.net was launched on November 5, 2012. As Faith would have it, Carl says he chose Nov. 5, 2012 to start his Radio Station and his show was to once again make history with President Barack Obama whom he highly looks up to and respects.
Carl says the experience was great and he had some great listeners from all over the world. However he says that, the cost of running a station without any advertisers is hard. He tried the subscription thing and that worked out fine, but he expected more.
He was maintaining, however, then commercial radio come calling once again one year later.
Carl says the decision was hard but, you either take a chance waiting on more subscriptions or you go with the guaranteed money. Well when you have a family you have to put them first, so he listened to their offer and decided to jump on board being that the company was now under new management. He returned to Z105.9 KFXZ FM in November of 2013 with his new Carl T Afternoon Jams Radio Show from 2pm until
7pm. He would stay on air there until July 21, 2015. He would no longer return to host the afternoon show, because he had tragically lost his son Antonio at the age of 29 is a traffic accident on July 22, 2015. He says it took everything out of him.
They called him to go back to Z105.9, but he just couldn't. "I was broken"! Carl says after a while of
praying and healing, he decided to switch careers because he was not feeling radio. He would later reach out to one of his loyal listeners. Carl says that Phillip Gilyard and his wife would always come to his club dances and he would always say, "If you ever need a job, just call me". So he called Phillip, who was the General Foreman at the Exxon Mobil Plant in Baton Rouge and Carl began to work there.
He says those long rides to Baton Rouge, back and forth, daily with a lot of praying and nobody knowing his current situation in B. R. really helped with his healing. Later, Carl would start to once again
DJ'ing in local clubs.
After a 3 year absence from radio Carl would return to the Station he left in 2015. Z105.9 FM while still being employed in Baton Rouge. He returned this time only part time on Saturdays with the Carl T Hot Sauce Saturday Show from 9am to 1pm.
Carl stayed there for one year this time around before taking another break from commercial radio.
Carl says he was shocked a year ago on July 15 th 2019 he was laid off from his job in Baton Rouge along with several others. He said the most shocking part was that he had just got promotion months before with a company vehicle. That was a tough one.
He says with his faith he believes that things happen for a reason. He prayed about it, let it go, and took a few months off to contemplate on his next move. In September, he made the decision to attend Costal Truck Driving School near his home in Sunset to pursue his commercial driver's license to become a Commercial Hot Shot Driver. He graduated with his CDL October 10, 2019. He purchased a truck a few months later. He started orientation with American Eagle Logistics on February 24, 2020. In fact he says wheneveryone was having fun for Mardi Gras he was in orientation keeping his eye on the prize and staying focused. Carl started with American Eagle as an owner/operator Hot Shot driver on March 2, 2020.
He says business was good at first but as the pandemic continued to get worse business slowed down due to many businesses closing and the oil
field already slow.
When all the DJ's started doing Virtual Live Parties on Facebook, he says his phone was blowing up with phone calls, text messages and inbox messages asking him to do a FB Live Show. He says that's why he did radio because he's shy; doing these Live FB shows is almost like being on TV he says Lol. Carl says one thing these Live DJ Shows did was put a spark in him to want to do Radio again, however Carl felt with all
the DJ's asking for folks to cash app them was not the right time with everyone hurting financially.
Carl says, "I'm not knocking anyone; I just didn't feel comfortable at the time". But with everyone doing cash app and PayPal, it also brought to light, kind of how he did his internet radio station years ago with a subscription. He feels this time around, thanks to the virtual DJ's, that he can give his listeners a chance to support him like this as well if they like the services he provide to them. But, he also feels that he can take it further this time around, not only can he do a few FB lives, but they will get a chance to listen to the Carl T Midday Memory Show Monday – Friday and he can do a Saturday show if he wants or pop in and do a show at any time of the day. What makes it more
special and more valuable is that they can listen to him anywhere in the world. On DownSouthRadio.net If you Bluetooth his app, you can listen in the car, on the job, on the Big Speakers at home or anywhere on the go. "I will have a cash app. & PayPal and
just like the virtual parties you can show your support", says Carl.
That's what brings us to this point. Now he's starting a new chapter in his life during the Corona Pandemic by launching DownSouthRadio.net for the second and last time he says as the CEO and founder. Carl says, "I am so thankful to God for giving me a second chance with my own radio station. As a believer in God, your steps are ordered by the Most High. He has a specific place of blessings prepared for you. He's aligning the right opportunities and causing the right people to come along your path to help you get ahead. That's why I would especially like to thank a very good friend of mine who happens to be a DJ also and has his own online radio station as well. He helped me tremendously with upgrading of my website, radio app and all.
Thanks to Brother
George "G-Boogie" Olivier, Jr."
"I thank God for leading me and directing my steps and also, thank God for his grace, mercy and everlasting favor".
Story told by Ms. Susannah Johnson Malbreaux
Publisher/Editor of The Southern View Magazine
Down South Radio
Textline
(337)275-3230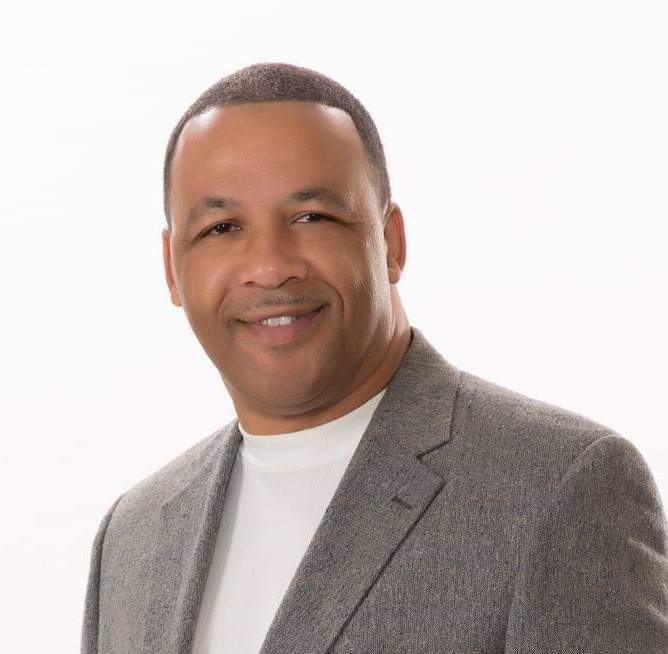 DOWNLOAD OUR
APP
BY CLICKING BELOW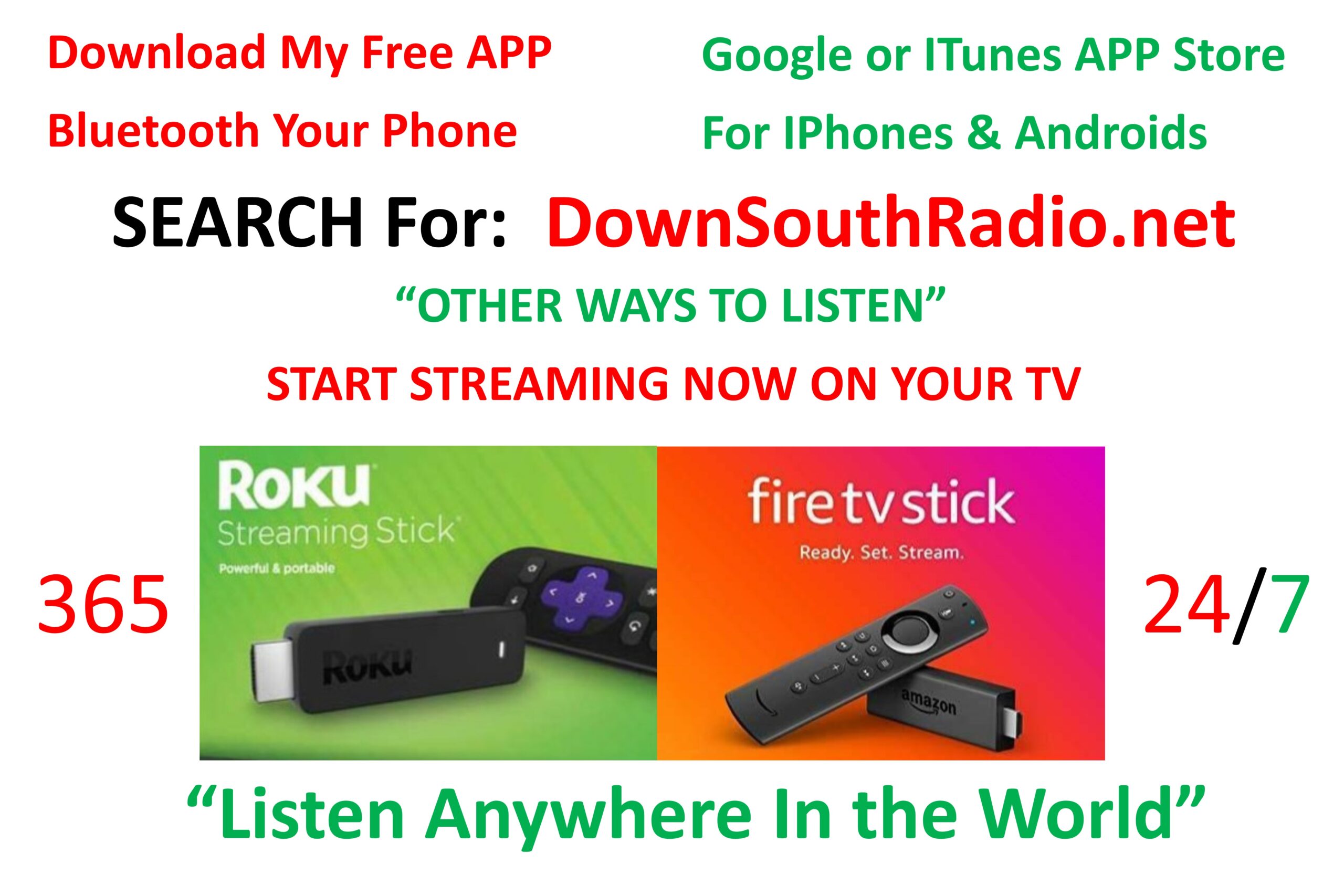 E-Mail Us
At
Down South Radio